A "Generator" is actually a combination of two machines, Engine and Alternator. Engine produces kinetic power by converting potential energy into mechanical energy, i.e., fuel (Diesel, Gas, HFO, etc.) which has potential energy into revolution of crank shaft which is kinetic or mechanical energy. The crank Shaft of the Engine shifts power to the rotor of the Alternator. The alternator then converts this mechanical energy into electric energy. This process is done through combustion of fuel. That is why these generators are called Thermal or Combustion Units.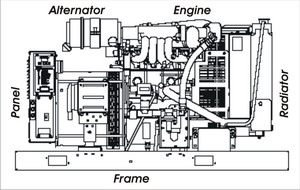 There are a number of options available in Pakistan for some one who plans to buy alternative generator power, i.e., alternative to Wapda or Grid power.
CATAGORIES
Generators can be divided in sub categories, e.g., in accordance with location, rated power required, nature of usage, period of usage, etc. Firstly generators can be brand new imported, locally refurbished, be imported in used conditions, etc., with a lot of variations in their prices. A user can choose a machine in accordance with his budget.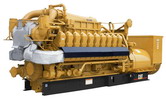 New - - - - - - - - - Refurbished - - - - - - Used
Secondly generators come in domestic ratings (1 kVA to 30 kVA), commercial ratings (30 kVA to 500 kVA) and industrial ratings (500 kVA to 2 MW and onwards). Again the prices vary in accordance with generator's power.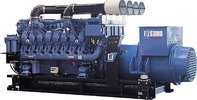 Domestic - - Commercial - - - - - - - - - - - - - Industrial
There is also the usage nature and period factor. Generators are either installed for prime usage, i.e., for 24 hour usage or installed for standby usage, i.e., to take care of load shedding of grid connection, meaning the generator shall be operational for 5 to 10 hours daily.


Most of all, you have to choose what kind of fuel is economic for you. The available options are Diesel, Gas, Furnace Oil, etc.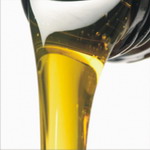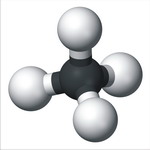 Diesel - - - - - - - - - - - Gas
GENERATOR MARKET IN PAKISTAN
Due to load shedding generators import to Pakistan and generator prices in Pakistan have boomed up since last five years.
There are a number of international companies offering their manufactured brand new generators in Pakistan. Prominent are CATERPILLAR, CUMMINS, PERKINS, FG WILSON, DANYO, etc. The prices these companies offer vary a lot due to quality difference.
People also import used generators in Pakistan mostly having the same brand names. These generators are different in their status and prices.
Up to 500 kVA ratings are assembled in Pakistan. These are coupled generators with very effective prices for local users.
Similar to all other fields, China is also getting dominant in generator manufacturing around the globe. Almost all ratings of China manufactured generators can be bought here in local market. The advantage being the lesser prices.